What should i do with my old computer ? May be it is the first Question come to your mind when you see your old computer. It is true that you can't run new games on your PC. Max Pyane had 20GB in size and need high end Graphics and System resources. You can use your Old computer for Office works ,Browsing and for Watching Films , May be you have Windows XP on your PC , best OS we ever seen , but if you want to Install Linux on your PC , you can consider these OS , Puppy Linux is best for Old PC , simple and powerful OS. We prefer Puppy if you have Pentium 3 Processor.
5 top Lite Linux Distributions
1 Puppy Linux
Simple Operating System based on Linux. Size of iso file is 115 MB without Open Office suit or Libre office suit. But it have all basic softwares like Web browser , Movie player , Abi word etc..
Latest version is Slacko Puppy

Latest Long Term version is Wary Puppy
Pros
Simple OS
Enough for Day to Day life
Good for Office and Education purpose
Need less system resource
Good Help and Support
Fast
Secure
Boot time less than 30-40 seconds
Run from RAM
Minimum system requirement
Wide software support
Live USB/CD
Latest stable version Slacko Puppy
Cons
Simple Desktop Interface , not too attractive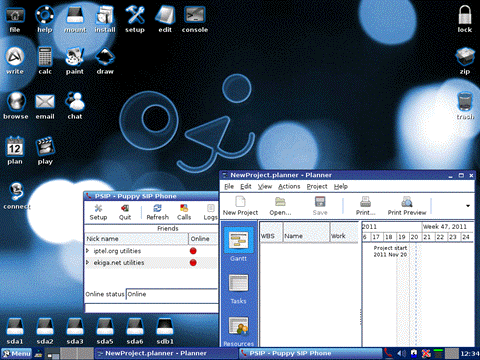 Puppy Linux long term version Wary puppy
Home page : Puppy Linux
Help and Support : Puppy forum
2. Lubuntu

Lubuntu is derived from Ubuntu , main difference between Ubuntu and Lubuntu is in Desktop Interface , Ubuntu uses Unity as default interface while Lubuntu uses LXDE interface. LXDE indicate Light x11 Desktop interface. Lubuntu could run on old computers with Pentuin Processor , It need only 128 MB ram for normal use , But you need atleast 256 RAM for smooth works.Lubuntu,Kubuntu,Xubuntu, Ubuntu have same name.They are all follow Ubuntu name.
Pros
Light weight Linux
Lubuntu Software Center
Minimum System requirement
Beautiful Desktop Interface
Mind blowing icon set
Live USB/CD image
Lubuntu 12.04 LTS
Home page : Lubuntu
Help and Support : Lubuntu forum
3 Pepper Mint
Peppermint is based on Lubuntu , and it also lighter than Lubuntu . Both Lubuntu and Peppermint uses Google chrome as default browser. But they have some differences in software's Peppermint has some online software's that are not in Lubuntu. We think that Peppermint is lighter than Lubuntu.
Pros
Lubuntu based
Simple and light
Minimum System requirement
Web based applications for Graphics and Emails
Fast boot time
Lubuntu Software center
Peppermint Linux
Home page : Peppermint
Help and Support : Peppermint forums
4 Zorin OS

Zorin OS is a an Ubuntu based Operating system.It has variants like Free , Premium etc.. Basically Zorin OS has Windows xp, Windows 7 and Mac like interface. For old computer's , Zorin OS lite is available , which can run on old computer with minimum system resource. Zorin provide good Help and Support for it's users.
Pros
Good help and Support
Can upgrade to original Zorin OS
Ubuntu like software center
Live USB/CD disk
Faster than Windows
Zorin OS
Download under lite
5 Tinyme
Similar to Puppy Linux , it look like puppy linux. Size is ,a bit more than Puppy , 230 Mb in size. It support both 32 bit and 64 bit. Faster like Puppy linux
Pros
Simple
Faster
Minimum system requirements
Live USB/CD
Tinyme OS
About Author :
I am
Susan Hannan
from
Test4Prep
; it gives 100%
JN0-632 test exams
. Let's take benefit of
1Z0-451 test Exams
material efficiently and get guaranteed success. Check out free demo of all certifications Exam.
Like us if it is helpful